25 Reasons to Choose us For Your Roof Replacement Columbus Ohio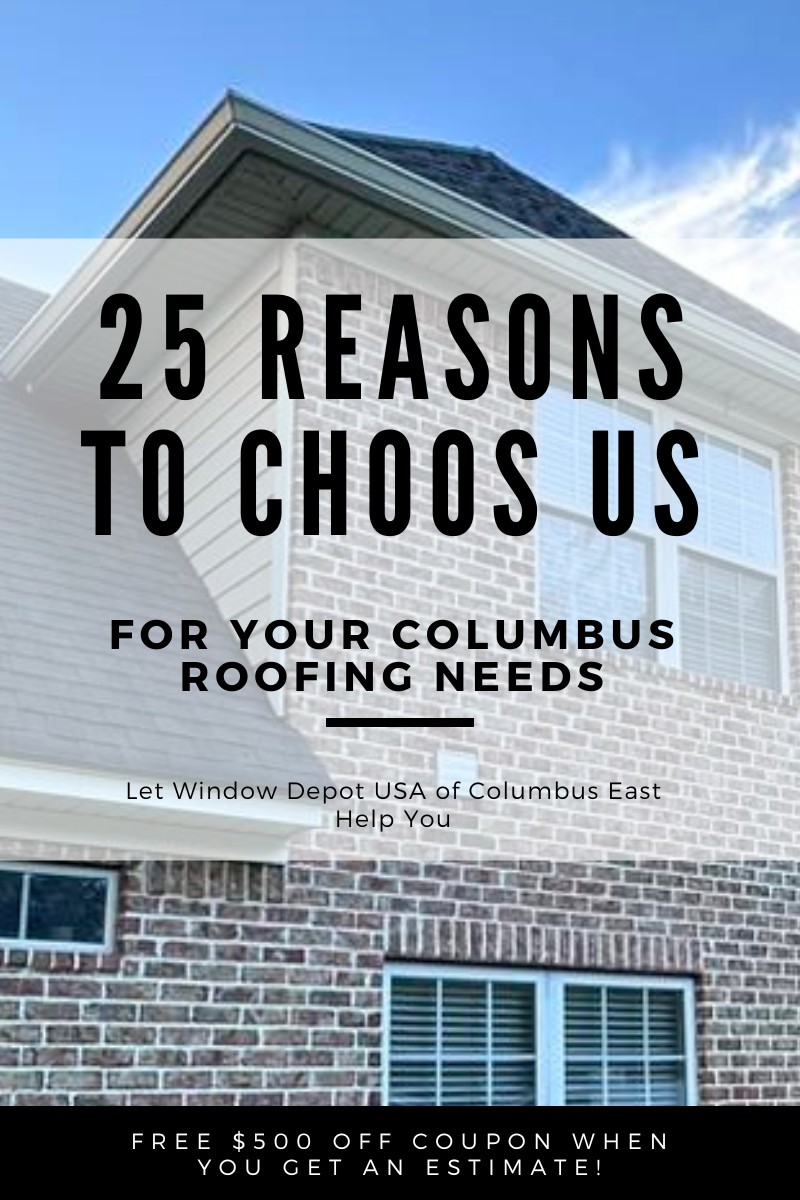 1. Experience: With years of experience in the roofing industry, we have the knowledge and expertise to handle any roofing project.
2. Skilled Roofing Contractors: Our team of highly skilled and trained roofing contractors are committed to delivering exceptional results.
3. Quality Materials: We only use high-quality materials that are built to last, ensuring a long-lasting and durable roof.
4. Wide Range of Services: Whether you need roof installation, repair, or maintenance, we offer a wide range of services to meet your roofing needs.
5. Residential and Commercial Roofing: We specialize in both residential and commercial roofing projects, providing reliable solutions for any property.
6. Fully Licensed and Insured: We are fully licensed and insured, giving you peace of mind knowing that your roofing project is in safe hands.
7. Competitive Pricing: We offer competitive pricing without compromising on the quality of our work, providing great value for your investment.
8. Energy-Efficient Roofing Solutions: We offer energy-efficient roofing solutions that can help reduce your energy consumption and lower your utility bills.
9. Superior Customer Service: Our friendly and professional team is dedicated to providing superior customer service, ensuring a smooth and hassle-free experience.
10. Prompt Response: We understand the urgency of roofing issues, and therefore, we provide prompt responses and timely solutions.
11. Excellent Communication: We value clear and open communication with our clients, keeping you informed every step of the way.
12. Transparent Quotes: Our quotes are transparent, detailing all the costs involved, so you know exactly what to expect.
13. Free Roofing Estimates: We provide free roofing estimates, allowing you to have a clear understanding of the project scope and cost.
14. Attention to Detail: We pay attention to every detail, no matter how small, to ensure a flawless and precise roofing installation.
15. Safety-First Approach: We prioritize safety and adhere to industry-best practices to create a secure working environment.

16. Timely Project Completion: We strive to complete projects within the agreed-upon timeline, minimizing disruption to your daily routine.
17. Warranty Coverage: We provide warranty coverage on our roofing services, giving you added protection and peace of mind.
18. Extensive Roofing Options: From asphalt shingles to metal roofing, we offer a wide selection of roofing options to suit your style and preferences.
19. Customized Roofing Solutions: We understand that each roofing project is unique, and therefore, we offer customized solutions tailored to your specific needs.
20. Attention to Sustainability: We prioritize sustainable roofing solutions, utilizing eco-friendly materials and practices where possible.
21. Ongoing Training: Our team undergoes regular training and stays updated with the latest roofing techniques and industry trends.
22. Local Contractor: As a local contractor, we have a deep understanding of the Columbus Ohio area and its specific roofing requirements.
23. Positive Customer Reviews: We have a track record of satisfied customers, with positive reviews and testimonials showcasing our commitment to excellence.
24. Professional Associations: We are affiliated with professional associations and organizations, further validating our reputation as a leading roofing contractor.
25. Long-Term Relationships: We aim to build long-term relationships with our clients, serving as your trusted roofing partner for years to come.
When it comes to getting your roof replaced, it's important to trust a team that has years of experience in the roofing industry. That's where Window Depot USA of Columbus East comes in. With their extensive knowledge and expertise in the Columbus market, you can rest assured knowing that you are in good hands. Window Depot USA of Columbus East takes pride in providing top-notch roofing services, ensuring that each project is completed with the highest level of professionalism and attention to detail. Whether you are looking to repair a few shingles or completely revamp your roof, their team of experts will guide you through the process, ensuring that you make informed decisions that best suit your needs and budget. With their commitment to customer satisfaction and dedication to superior craftsmanship, Window Depot USA of Columbus East is the go-to team for all your roofing needs in Columbus. Trust them to replace your roof and enjoy the peace of mind of knowing that you have chosen a team that truly cares about your home.